-35sqm indoor space –

Modern designed with a spacious overlooking the Market and the pedestrian zone of the old town balcony, Querini Deluxe Suite fulfill all the requirements for a memorable stay. Together with special attention to detail, comfort and functionality the 35sqm suite constitutes the benchmark of every visitor's tour to the beautiful city of Chania.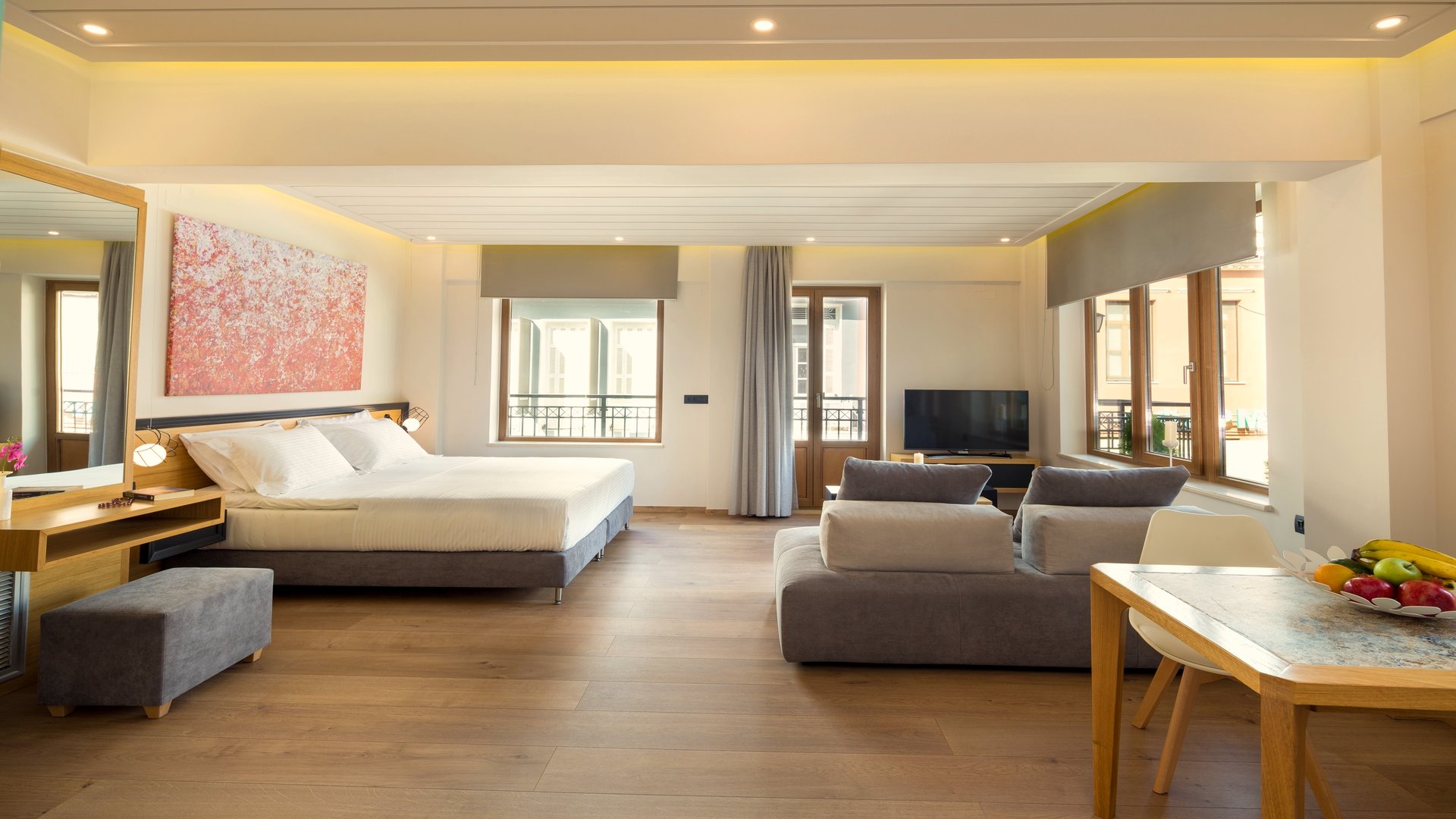 Capacity: up to 3 persons
Check-in: 14.00pm
Check-out: 12.00am
Early check-in or late check-out upon request and subject to availability!
Breakfast is optional and costs 10 euros per person per day.
Once you have settled in, we will be on hand to share with you information about shops, restaurants, museums, beaches, local feasts, or anything else you may need.
On arrival you will find a complimentary basic pack with fruits, coffee tablets (provided by the maid daily) , milk for coffee, sugar, tea, mineral water, orange juice, beers, and coca cola.
If you would like to create your own pack with added items, please contact us with your requirements and we will provide you with a price.
Querini Deluxe Suite is Non-Smoking . The spacious outdoor areas though it is sure to completely meet your needs.
The suite will be cleaned by our maid every day.
Cleaning hours 11:00 to 14:00. (flexible about your preferred time to be discussed with us)
Towels are provided by the maid daily and fresh bed sheets every second day.
In the suite offered, free of charge, the following services:
– Daily cleaning
– Rich welcome pack
– Unlimited, high-speed wireless and wired internet access
– Baby cot and baby seat (upon request)
– Multifunctional printing services
Our philosophy as well as our overall effort is to make the visitor's stay as idyllic and attractive as possible. In order to achieve that we provide, upon request, a range of additional services with separate charge for each one of them.
– Transfer to/from airport or port
– Laundry and ironing
– Lunch or dinner at your place
– Body therapy | massage
– Daily cruises with yacht
– Daily trips in the Cretan mainland and the beautiful beaches
For more information and anything else you need we are at your disposal.
"Beautiful space, great location, and a truly wonde"

Manolis went above and beyond to make sure we were thoroughly at home, and we're ready to take advantage of Chania. He helped me find my misplaced car, and greeted us with fresh fruit and wine. He was warm, genuine and a pleasure to encounter.
"Looking forward to stay again"

Excellent accommodation. I visited with my wife for a romantic city break. The location is just in the hart of the old town, however a public parking was just a few feet away so we could also use our car. The room was as described in the photos. Sound design, high quality decoration, excellent bed. It was clean,and comfortable. Despite the fact that its located exactly at the center of the old town (behind the Agora) it is very quite. Walking distance to the most important sites and all amenities. Excellent breakfast service. Sound communication with the staff/administrator (Manolis is the man!). It was a short visit, we'll definitely come back for more (my wife loved it)!
"Amazing suites!!!"

The suite is absolutely fantastic! Super luxurious and it's located in the heart of the town, very close to everything. The place is very clean and spacious, all furniture is brand new and very comfortable! Manolis (the owner) was very polite, friendly and helpful! This suite is definitely value for money and exceeded our expectations. We will surely come back again just for this place!!